The gift that keeps on giving. You do you, Alma.
The first part of the
Tax Reform for Acceleration and Inclusion (TRAIN) was
signed into law
in December of last year. Its main selling point was that those earning Php250k annually will no longer have to pay the income tax. While a lot of people find this a cause for celebration.
Like Alma Moreno, I still have my own reservations about this whole exercise. I do recognize that we will have a bigger take home pay, but I also know that we will be taxed in other ways. Like the price of anything that uses oil or sugar will surely go up. Hello, fare hikes and no more unli-softdrinks. (Not that I'm a big fan of soda, anyway.)
But I want to look at this positively, so I want to focus on how the TRAIN will make our take home pay bigger. Every year around tax time, I just grind my teeth at how much tax the government takes away. I mean, it's fine if you see that social services are efficient or that government officials are competent. Just knowing that your tax money goes to someone else's already deep pockets and yours are butas, that's just a major bummer.
In the pre-TRAIN tax regime, I get taxed ~25-32% because I am single, have no dependents, and earn from multiple compensation. A part timer is only allowed a maximum of 12 hours a week. So if I work for 4.5 hours a day, I only get 3 hours because the 1.5 is already eaten up by taxes. Your payslip may show that you get a sizeable amount, but the reality of what shows up in your ATM is another matter. A third of your salary is no laughing matter. Because in a year, that amount balloons to more than 6 digits. Monthly, it's enough to pay an amortization for a condo or a house. But in reality, I can't even qualify yet for a housing loan--I'm a part timer, and my salary is under 50k. So yes, a bummer.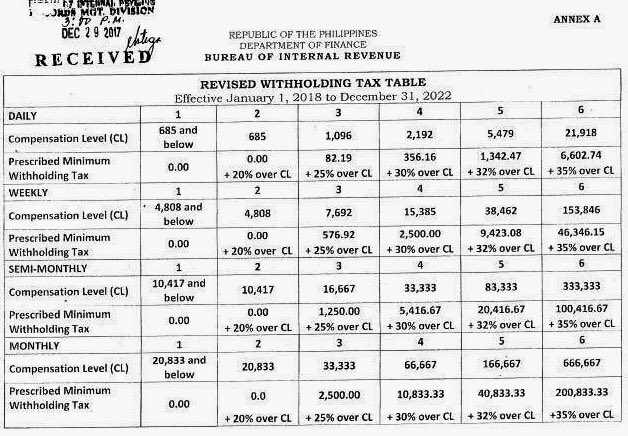 Photo courtesy of ABS-CBN reporter Alvin Elchico.
In the new TRAIN Revised Withholding Tax Table, my income category falls under the 30k + 25% of the excess over 400k. Which means roughly my annual income tax will now fall under 50k, which is a whopping reduction coming from around 3x that amount. From a condo amortization, pambayad na lang ng parking---kung may kotse ako. Eh wala so nganga. Hahaha.
But seriously, if the tax computation table is indeed true, that is an additional 7k or so to the monthly take home pay.
What to do with this "free" TRAIN money?
Not going to spend it on #travelgoals, that's for sure. Will most likely funnel it into a retirement account, aka the long delayed PERA.
As for which entity and fund, that will come in another post.