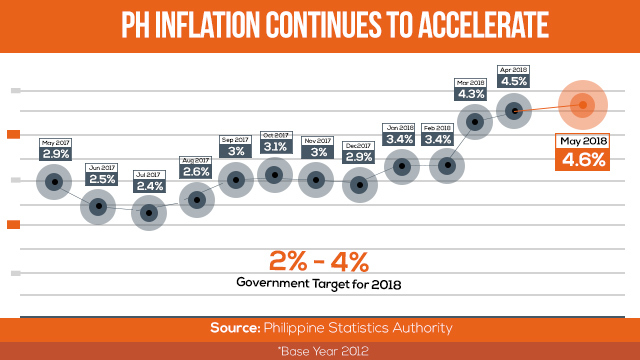 Philippine inflation rates seem to go nowhere but up. Pics by Rappler.
Inflation, or the movement of prices of basic goods and services, is now at a 5 year high, and shows no signs of stopping anytime soon. Every month seems to bring news of a new rise in inflation rates. April registered an increase of 4.5%, May peaked at 4.6%, June rates were at 5.6%. July rated a 5.7% hike.
These numbers are way higher than the government target of keeping inflation within 2% to 4% from 2018 to 2022.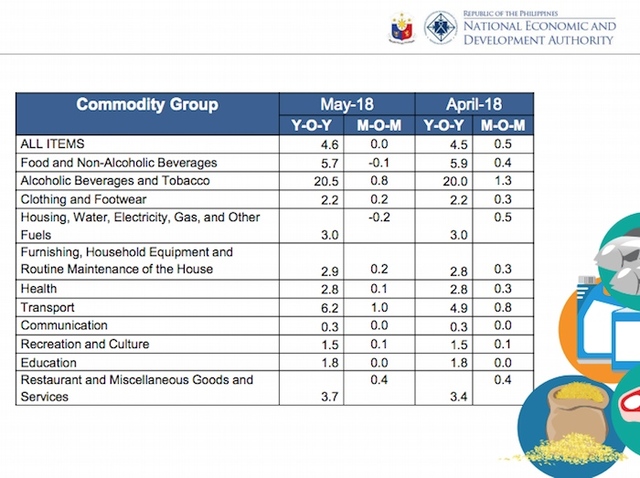 Numbers from NEDA. Pics from Rappler.
The hardest hit are the poorest Filipinos, who have to pay 6.5%
more
for the food, transport and other items they consume. Only education ramped a negative rate.
Testing the numbers. Calculator by Ace Subido.
If this continues, it would be handy to know just how much your peso is worth against rising inflation. Ace Subido came up with this inflation calculator that lets you "
see how prices in the Philippines has changed over the course of time." The data goes back all the way from 1960, based on numbers provided International Monetary Fund and International Financial Statistics. Recent rates are calculated from the data kept by the Bangko Sentral.
I plugged in some numbers just to see how it works. This is based on when I joined the work force in 2000. The pay rate at the time was around Php15,000 for relatively fresh grads (although I was still in school when I started working). Over 18 years, and rates have doubled since then. Looking at it this way, it seems like pay has only increased almost at par with inflation.
If you think about it, that re-dubbed Anak confrontation really doesn't seem so far-fetched. Imagine all those households trying to make ends meet. No matter how hard you work, you will still end up beaten by inflation. It's not like employers are going to adjust work wages to adapt to inflation rates. Although there was a 3% raise on wages this year, that's not even enough to cope with inflation. Super talo pa.
Now, who still says that TRAIN was a good idea?